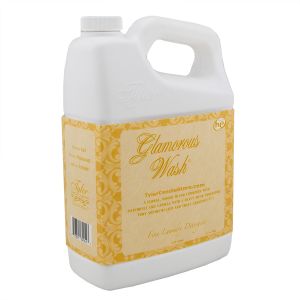 Glamorous Wash Large 64oz
A fine laundry detergent designed to explore and expand the power of fragrance for an intimate glamour experience that can be used for both hand and machine washing including HE washing machines.The 64oz bottle is half the weight of the 128oz and is much easier on the wrist most customers love this new size. Formulated to clean effectively yet remain gentle on delicate, specialty fabrics such as linens, lingerie, and other fine fabrics. 
High Maintenance -  Is a floral, woody blend combined with patchouli and vanilla with a heavy musk undertone! Very sophisticated and truly addictive!!!!!!! 
Trophy -Extreme confidence & endurance required to obtain! Warm & romantic vetiver begins this amazing fragrance & then intensifies with the excess neroli, African marigold, and Moroccan cedarwood!
French Market -Fresh floral with notes of gardenia and tuberose. Extremely unique!
Mango Tango® - A sweet and juicy dance for the senses!! Rich mango, sweet papaya & tart guava create this luscious fragrance! Create your own tropical paradise!!
Limelight® - An invitingly clean, fresh fusion of pure mandarin oranges with a shocking touch of lime as a top note. A slight undertone of rich vanilla bean oil gives this a unique twist.An elixir for the senses!